Our Bar & Restaurant is a place where our guests can experience tastes from around the globe. Here, the world can fit inside of your palette. Enjoy the trip with our delicious food!
Prices do not include 15% sales taxes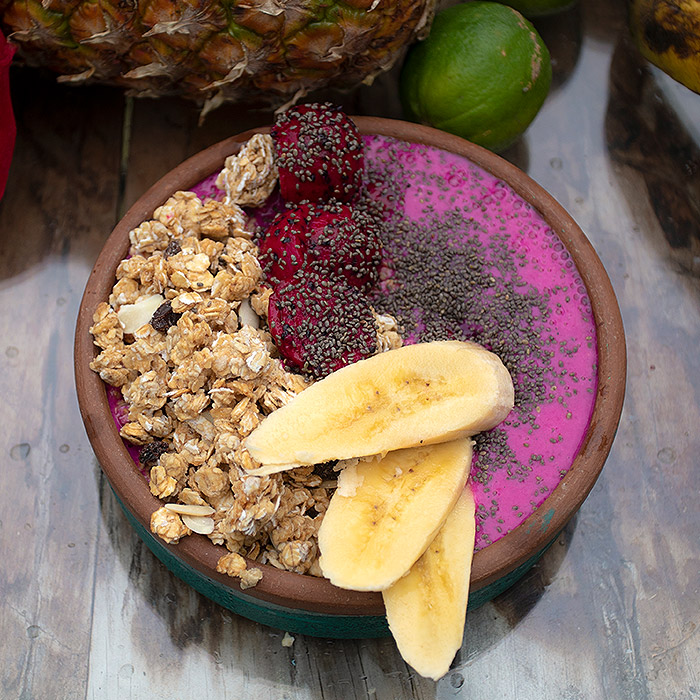 Breakfast
2 eggs prepared as you choose, gallo pinto, fresh cheese, sweet plantain or homemade tortillas 
Accompanied with seasonal fruits and syrup
2 pieces of traditional french toast served with homemade butter and seasonal fruit
Blended frozen fruits topped with granola and fresh seasonal fruit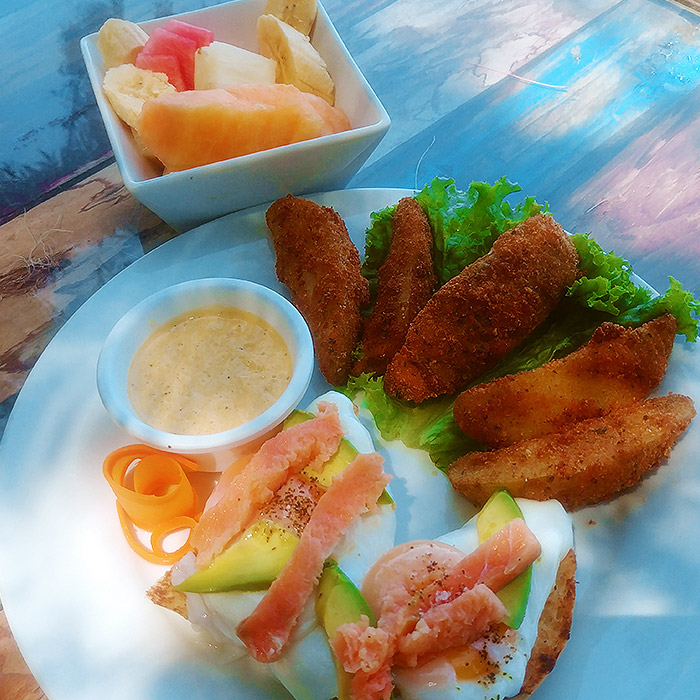 3 egg omelette filled with tomates, onion, and cheese (+1$ add ham) Served with bread
Whole wheat tortilla filled with gallo pinto, 2 eggs, cheese, and pico de gallo. Served with fruit
Paradiso Benedict Special
6.00
Homemade toasted bread, topped with bacon (or salmon +$1.5), 2 poached eggs and hollandaise sauce. Served with home-fried potatoes, gallo pinto, and fresh fruit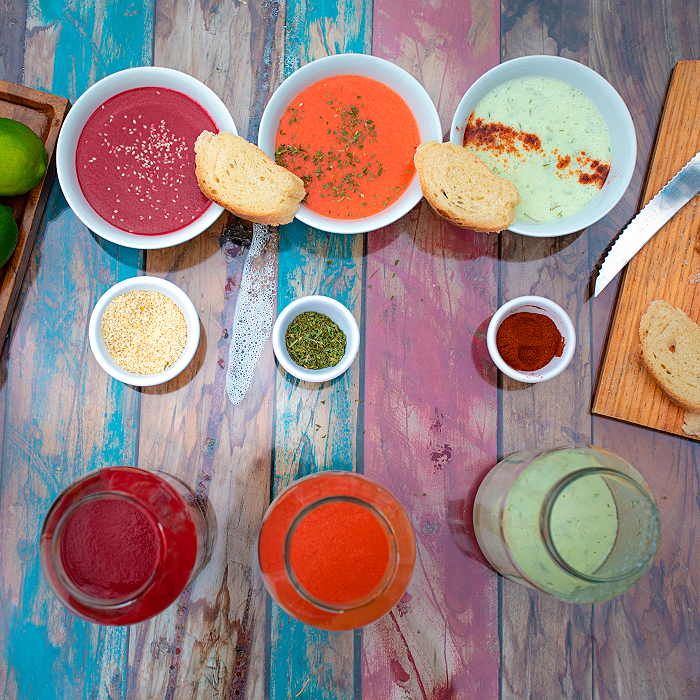 Cold Soups
A refreshing cream soup of cucumber, greek yogurt, and mint
A cold soup of tomato, onion, pepper, and cucumber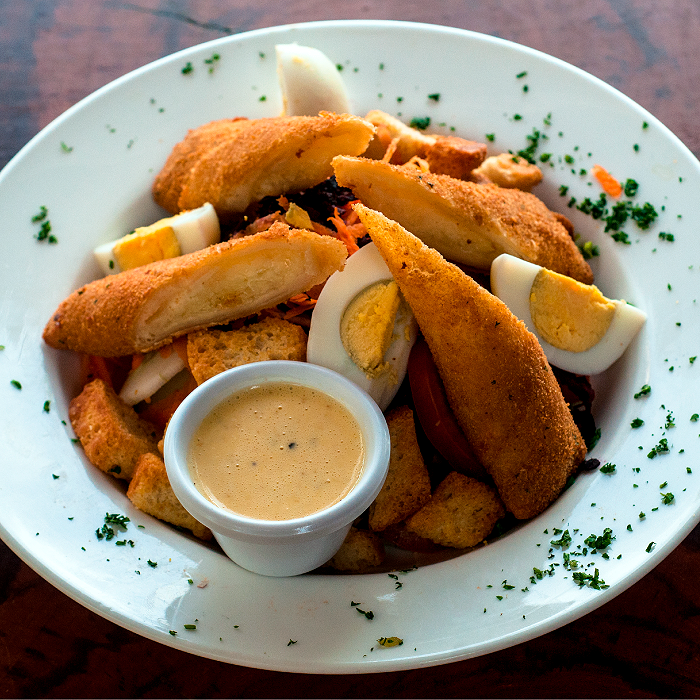 To Share (or not)
7 Tostones topped with fried fresh cheese
7 Tostones topped with fried fresh cheese and meatballs
Chicken/Fish/Mozzarella sticks
7.50
8 Chicken/Fish/Mozzarella sticks served with sauce and fries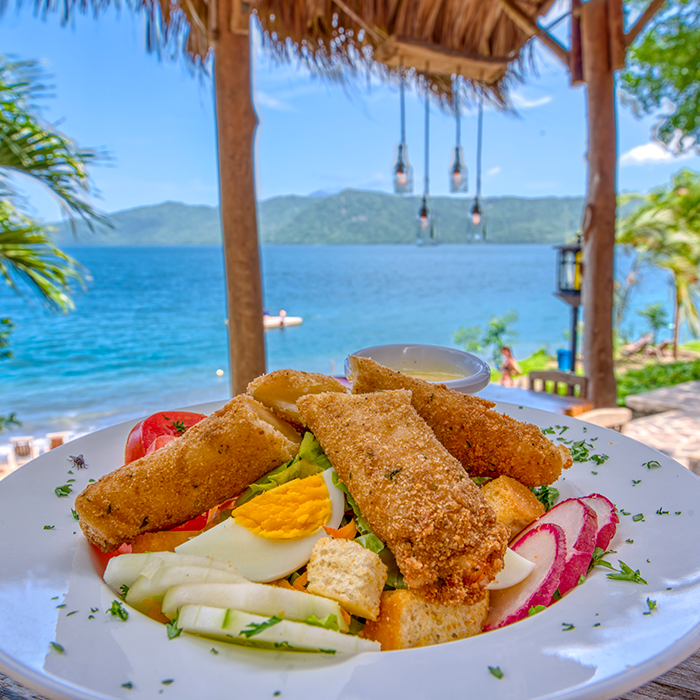 Salads
Fest cheese, tomato, cucumber, bell pepper, red onion, olives, olive oil dressing
Local lettuce smoked with bacon, tomatoes, fresh cheese, red onion, blue cheese dressing
Our Paradiso Salads have green salad, tomato, red onion, cucumber, carrot, fresh cheese, fried plantain, homemade bread. Than you can just add
Cooked egg, passion fruit dressing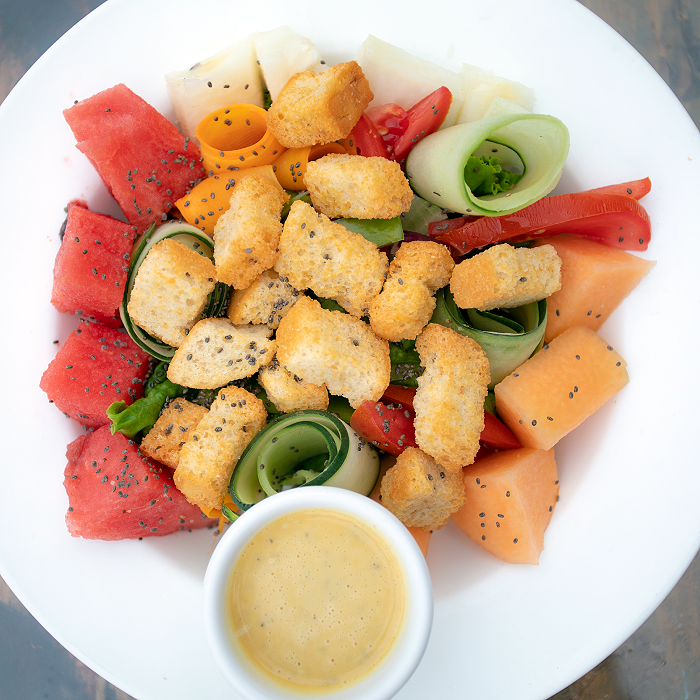 Mozzarella sticks, passionfruit dressing
Fresh seasonal fruits, passionfruit dressing
Organic chicken with mango dressing
Filet Mignon with mint dressing
Corvina with tartar sauce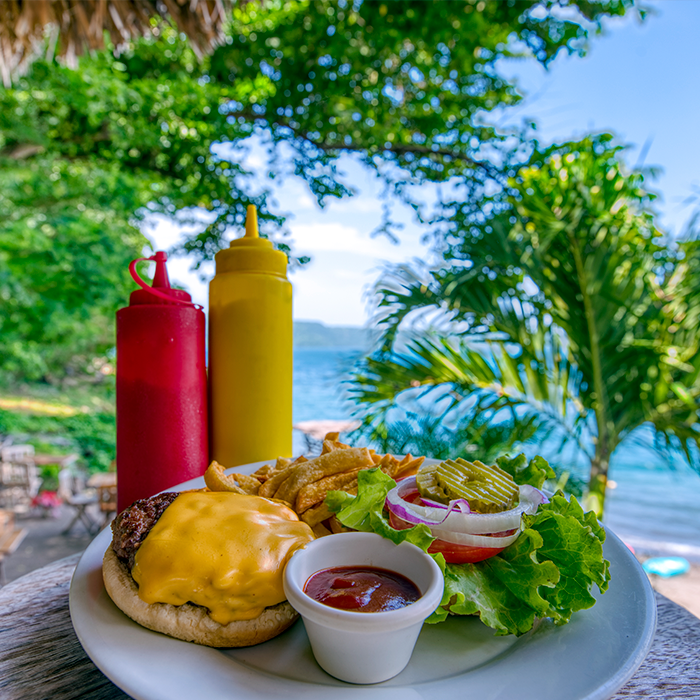 Hamburgers
6 Oz of ground beef, cheddar cheese
Homemade burger made of chickpea, carrot, and cheddar cheese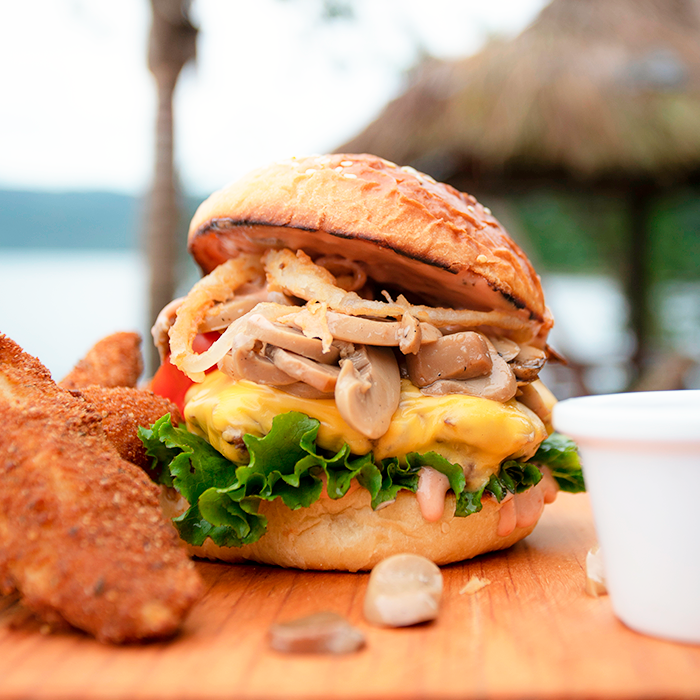 6 Oz of ground beef, bacon, cheddar cheese
6 Oz of ground beef, blue cheese
6 Oz premium ground beef, mushrooms, caramelized onions, honey mustard. Served with home fries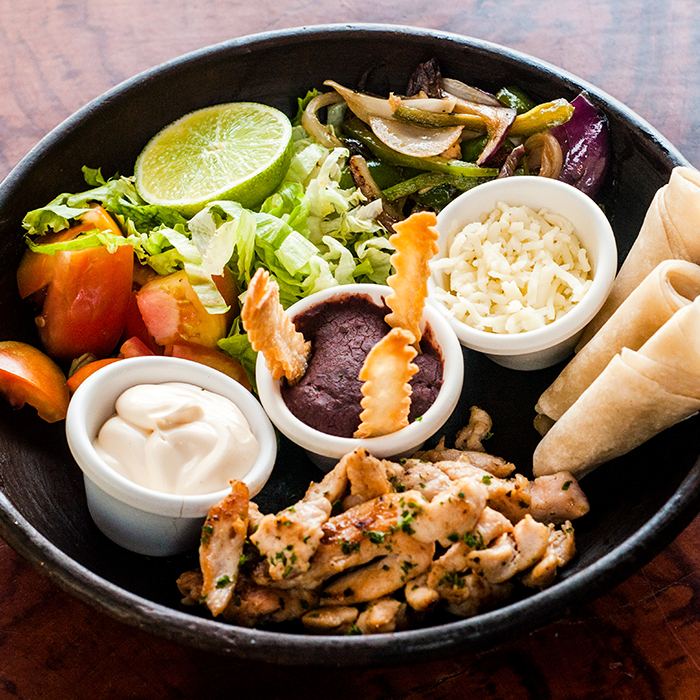 From Est to West
Organic chicken filled with ham and cheese
Chicken or beef Fajitas
7
.00
Grilled chicken or beef served with tortillas, sauteed onion and pepper, tomatoes and salad. Sour cream, refried beans, and mozzarella
8Oz organic chicken, vegetables, rice and jalapeno salsa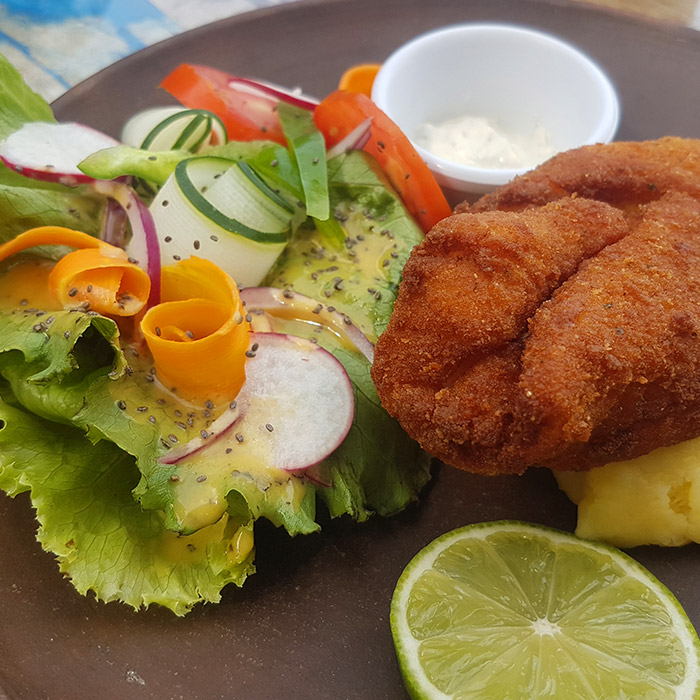 8 Oz grilled organic chicken served with rice and homemade ginger-mango sauce
Organic chicken in a coconut milk curry sauce with vegetables and rice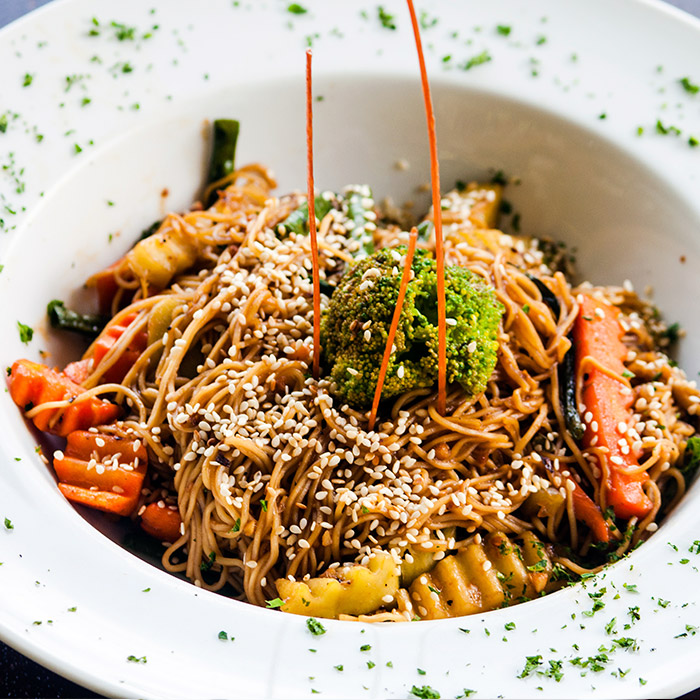 Asian
Wok sauteed rice with vegetables, soy sauce, and spices. Add chicken for $1.5 or shrimp for $4
Wok stir fried pasta with vegetables. Add chicken, $1.5. Add Shrimp, $4
8 Oz of organic chicken sauteed with sweet and sour sauce, served with rice
8 pieces of sushi filled with salmon, cucumber, and avocado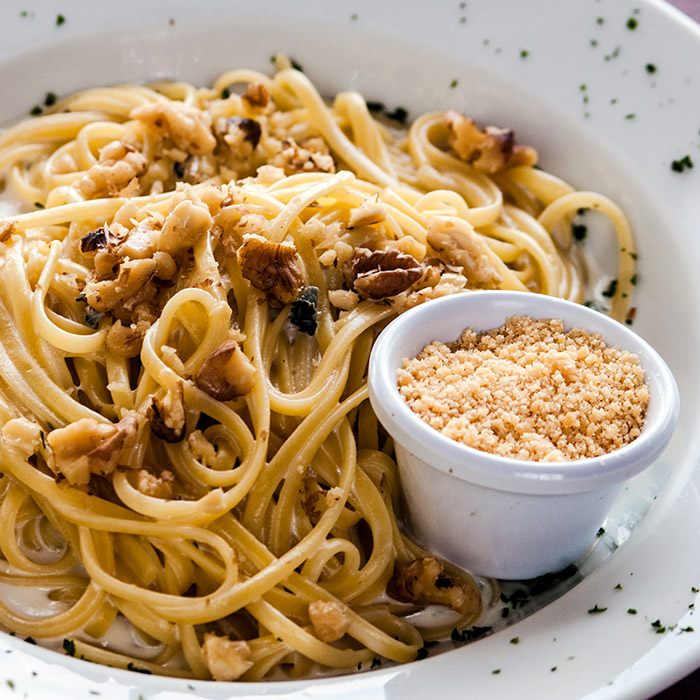 Pasta
Choose you pasta: linguine, shell, farfalle, penne
Tomato sauce, onion, ground beef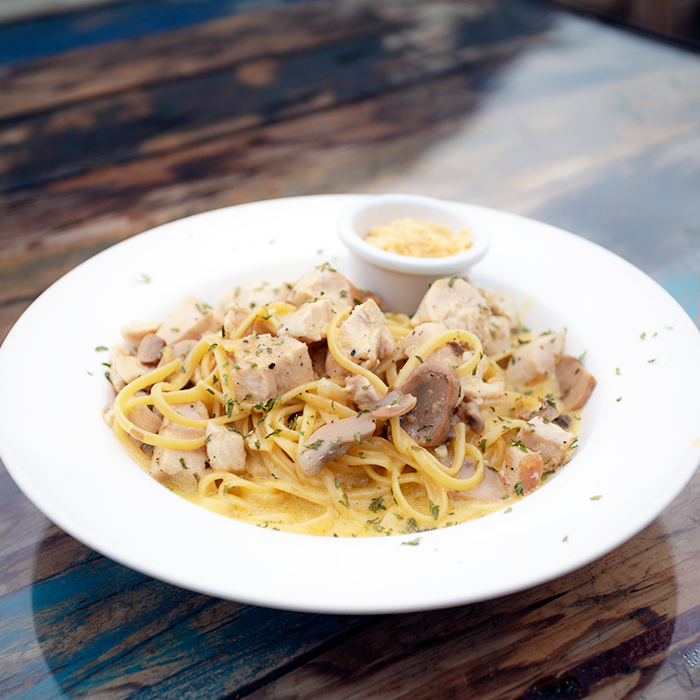 6 Oz of garlic sauteed shrimp with vegetables
Creamy blue cheese sauce with nuts. Add chicken, $1.5
Chicken, mushrooms, cream sauce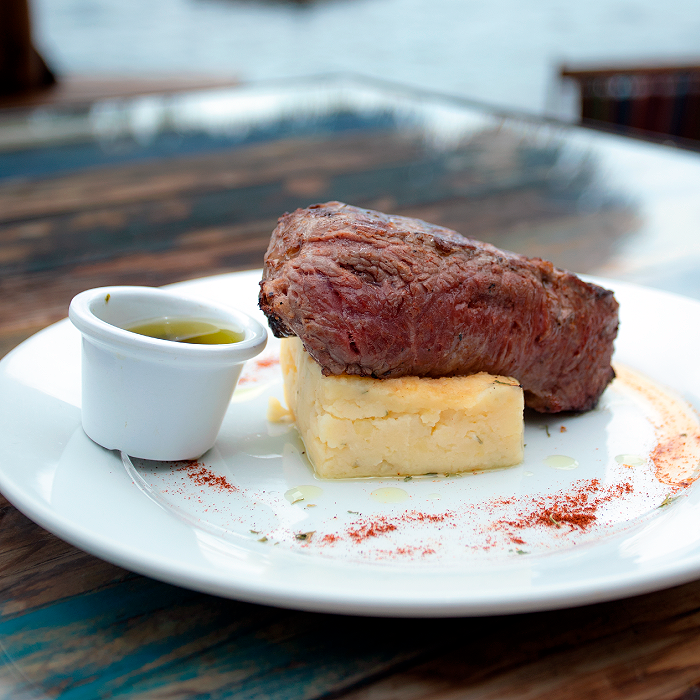 Red Meat
Choose your sauce: chimichurri, jalapeño, blue cheese
8 Oz of grilled filet mignon with vegetables, mashed potatoes and salad
10 Oz of filet mignon served with mashed potatoes or fries, vegetable or salad
10 Oz of premium filet served with mashed potatoes/fries, vegetables/salad
2.5 LB Tomahawk for two served with grilled vegetables and baked potatoes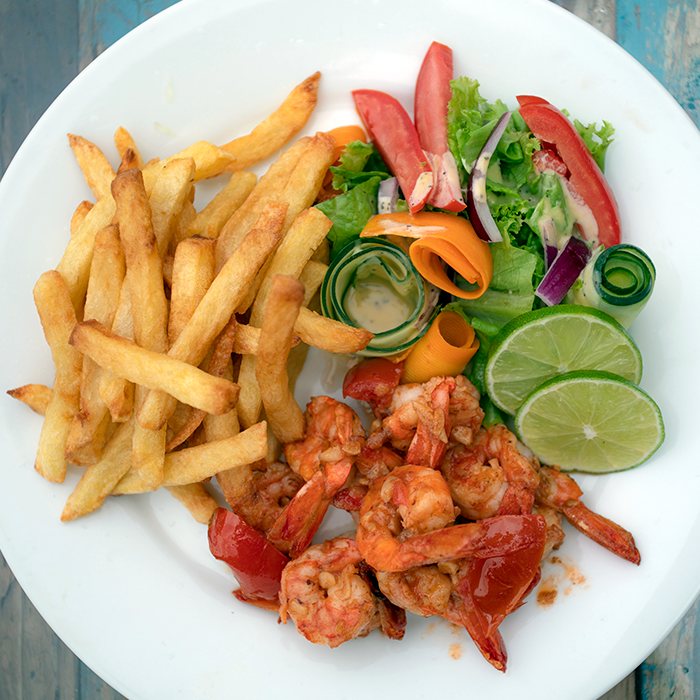 Fish and Seafood
Corvina with vegetables, rice, and tortillas. Add shrimp, +$4
Whole fish
12.00 / 15.00 / 18.00
Fried Pargo with rice, tostones, tipitapa or garlic sauce
8 Oz of Corvina fried or sauteed in garlic sauce, served with rice or fries, and salad
7 Oz of shrimp, your choice of: breaded and friend, or sauteed in garlic sauce, served with rice and salad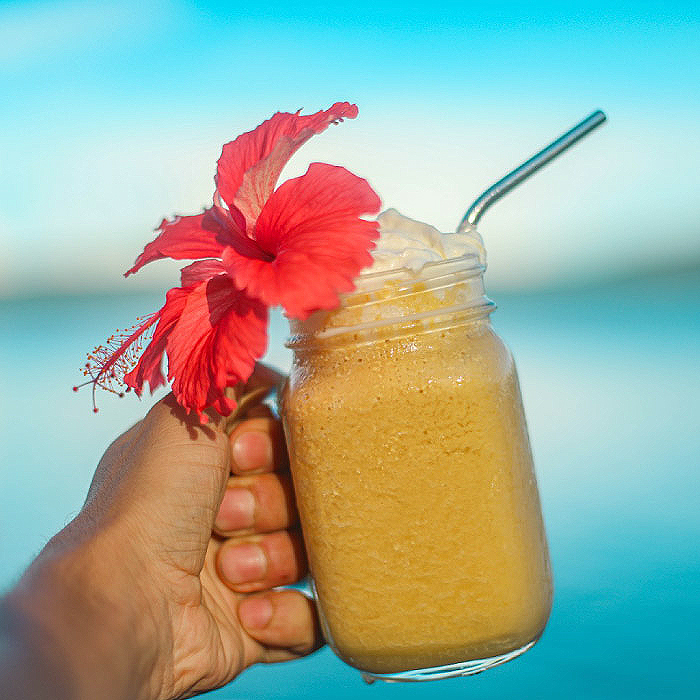 Smoothie
Banana, milk, oreo and sugar
The Pineapple Incident
3.50
Pineapple, cucumber, mint and passion fruit
Carrot, ginger, passion fruit and syrup
Passion fruit, banana, watermelon, melon o pineapple. Add RUM for only +$1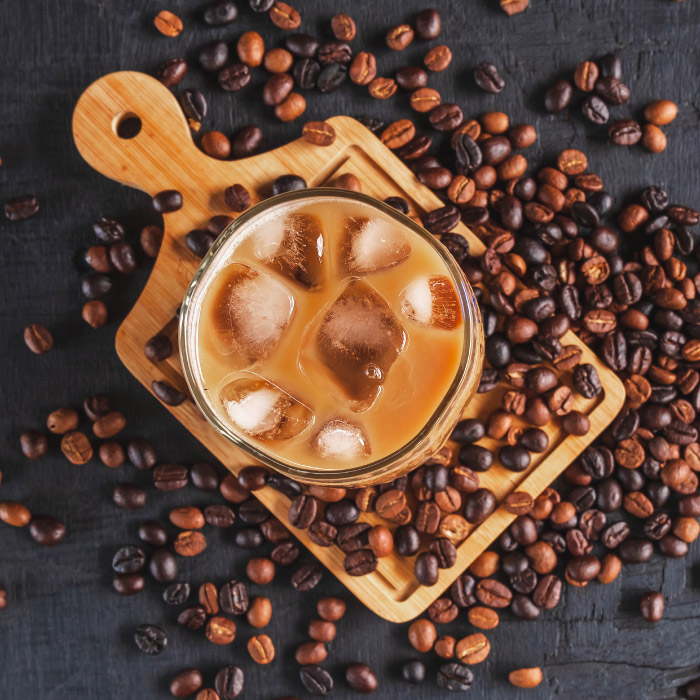 Iced Coffees
Explosión de Chocolate
4.00
Coffee, cacao, choco chips, hershey syrup, milk and chantilli. Add RUM for only +$1
Coffee, cinnamon, banana and coconut milk. Add RUM for only +$1
Coffee, vanilla, mango syrup, milk and chantilli. Add RUM for only +$1
Coffee, nutella, peanut butter, hershey syrup, choco chips, milk and chantilli. Add RUM for only +$1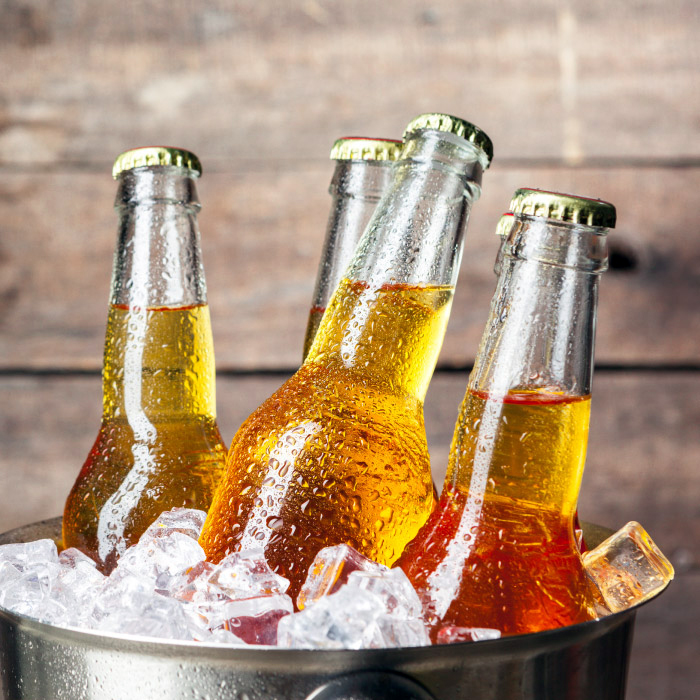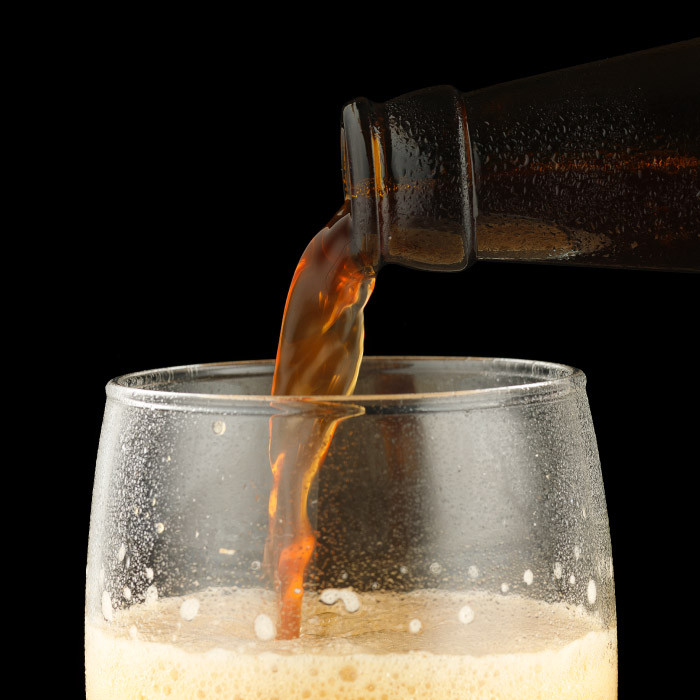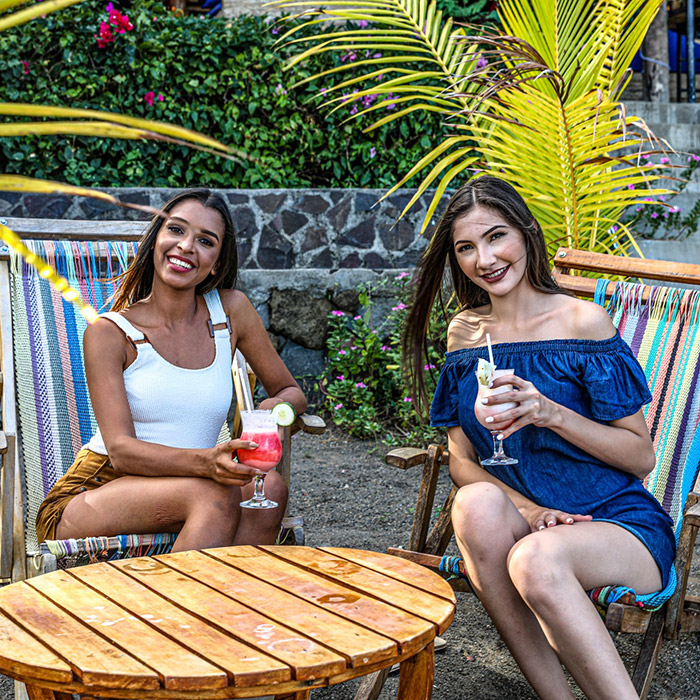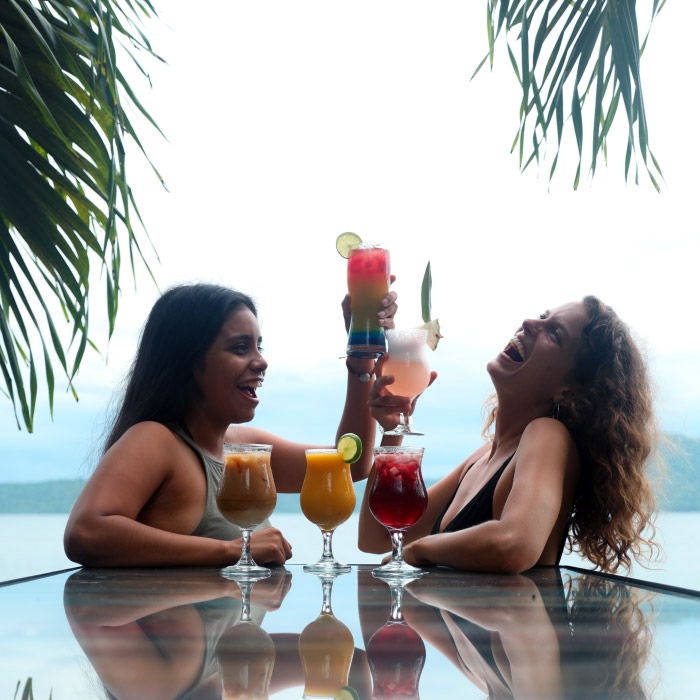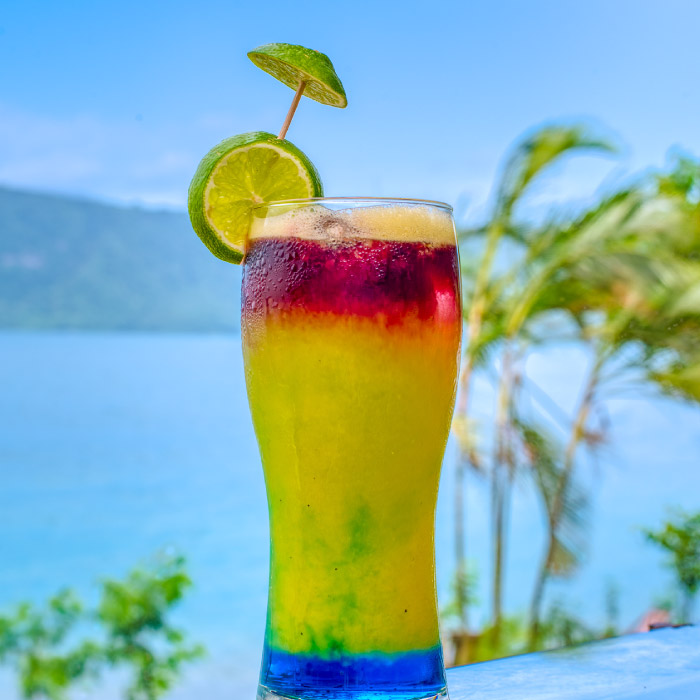 Cocktels Paradiso
Cacao rum, passion fruit, jalapeño syrup, lime juice
Whisky, lime juice, syrup, coconut milk
Fresh fruit, dark rum, lime juice, syrup, mint
Vodka, white wine, fresh mango, coconut milk, syrup
Dark rum, passion fruit, lime juice, syrup, mint, club soda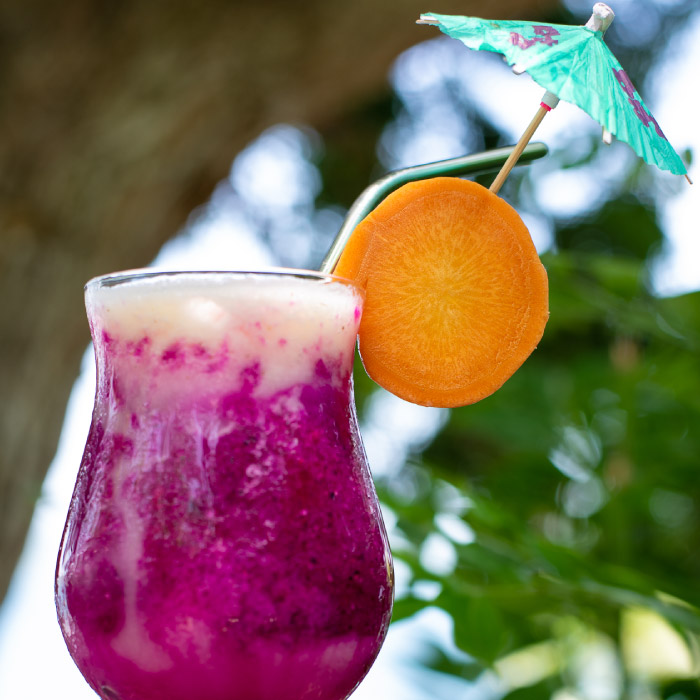 Tequila, passion fruite, red wine
Tequila, orange juice and granadine
Blue curacao, sprite limon xtra lite
Dark rum, kalhua, pineapple juice, passion fruit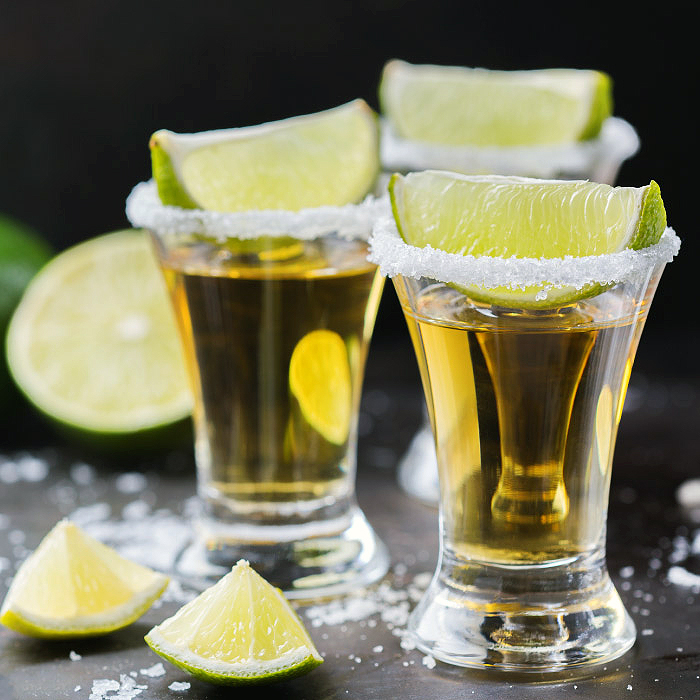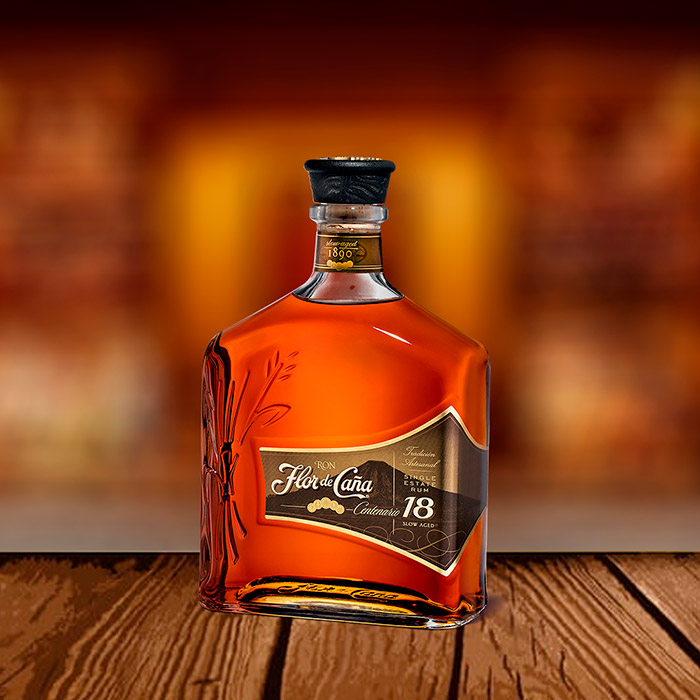 Flor de Caña 12 years
4.00
Flor de Caña 18 years
6.00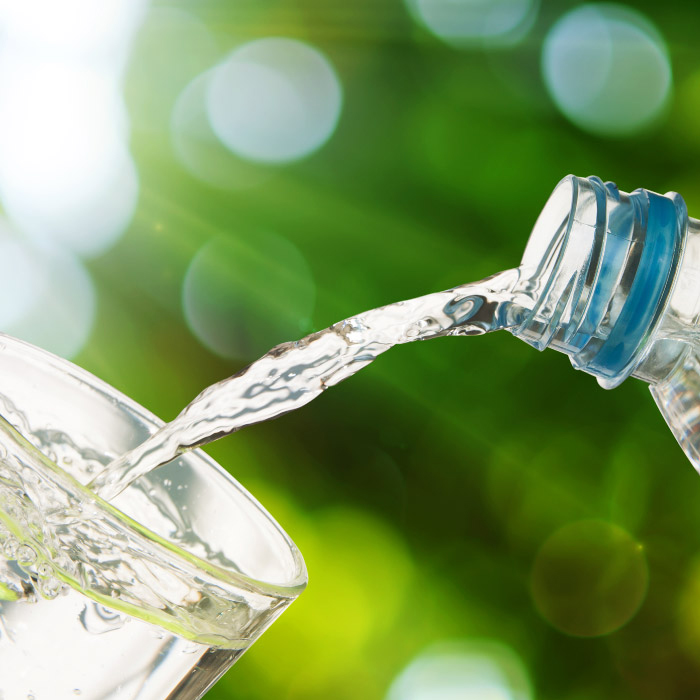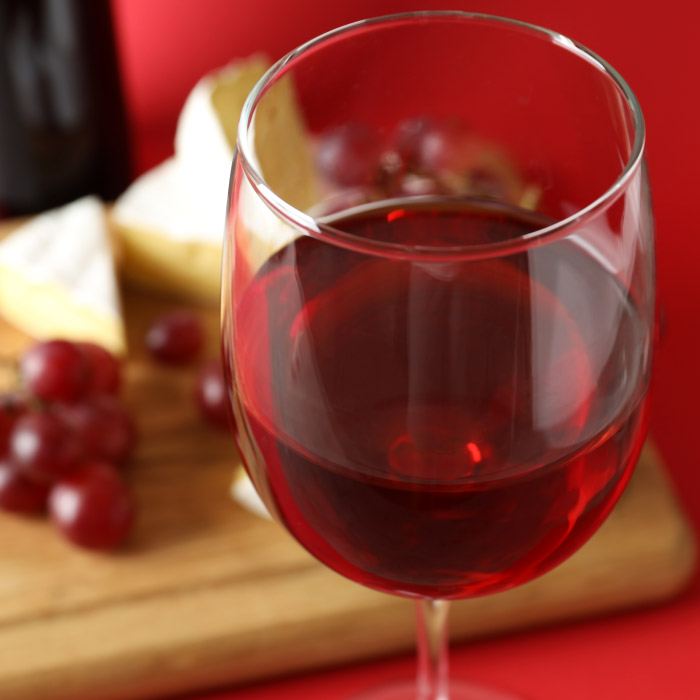 ---
Opening hours
Breakfasts, salads, French food, Italian food, Asian food and local food are just some of all our dishes that you can find in our menu. Every desire you have can be fulfilled by our cooks who will surprise you with high level of professionalism!
| | |
| --- | --- |
| Breakfast | |
| Monday – Sunday | 7:30 am – 11:30 am |
| Lunch & Dinner | |
| Monday – Sunday | 12:00 pm – 7:30 pm |
| Bar | |
| Monday – Sunday | 8:00 am – 10:00 pm |